Find out how to achieve a successfull move without tears (well, just a few).
I've recently moved my partner, two children, cat and dog from the five-bedroomed Edwardian house in Barnsley, South Yorkshire where we lived for 13 years to our new home, which we have spent a year renovating.
It's only a few miles away, but it's been a long, hard journey involving many packing crates, boxes and bags. I've learned a lot along the way and these tips will help your own moving day go as smoothly as possible – just don't forget the headache tablets.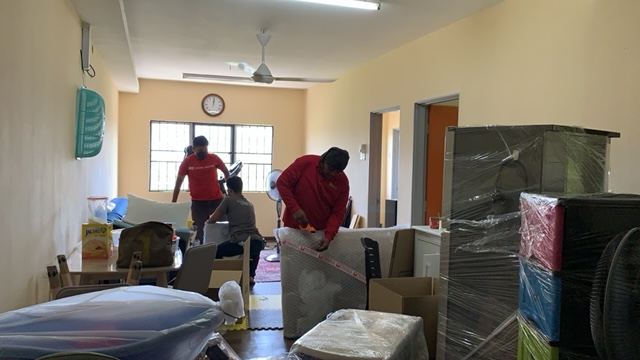 1.DECKUTTER FIRST
I told myself I'd decluttered when I made the rooms look nice for the estate agent to take his sales photos. Who was I kidding? It turns out I had merely thrown everything into the nearest cupboard. When we finally exchanged contracts with our buyer, I knew I couldn't put off emptying those cupboards any longer. It took days. It was exhausting. Boring. And very time-consuming.
2.KEEP PRECIOUS ITEMS SAFE
Never be cavalier with jewellery and special mementoes. Remove them from the house as a priority and place them in a safe or the temporary care of someone you trust. Somewhere in the midst of my still unpacked boxes and bags lie my wedding ring, engagement ring and eternity ring. Yes. I've lost them in transit. I saw them at the old house but they're yet to turn up at the new. Don't worry. When you've moved as much stuff as I have in the past year you become quite fatalistic.
3.DISMANTLE IN ADVANCE
It takes longer than you could ever imagine to dismantle a bed, a cot, and that heirloom chest of drawers which has to come down three flights of stairs. I would strongly advise you to start the furniture dismantling process as far in advance as possible. One good tip is to gradually migrate your family into one downstairs room during the week prior to the move itself. It doesn't matter if you all have to sleep on the floor. At least the removal men will like you.
4.SHOULD YOU DO IT YOURSELF?
Speaking of removal men, it's not madness to do it yourself, but it takes a lot of courage, organisation and a ready supply of strong men. When I relocated from London to Barnsley 13 years ago with my toddler son, I asked the experts, Pickfords, to do it all – the two cheerful lads even packed the teapot with the teabag and hot water intact. This time we did it ourselves. But as I know only too well, driving the necessary high-top, tail-lift hire van is not for the faint-hearted. Average removal costs for a three-bedroom home are £900, according to advice website Removal Reviews, and professional packing will cost you at least another £300. I wouldn't blame you for exploring cheaper options, but not at the expense of dropped china and a dislocated shoulder.
5.PACK AWAY YOUR PURSE
You're finally in transit. Between the cashpoint, the supermarket for emergency bin bags, the cashpoint again and the coffee shop for emergency caffeine, it's easy to get distracted. At some point I guarantee you'll forget where you've put your handbag, or worse, fall victim to an opportunistic thief when you leave it on the dashboard. I'd always ditch the actual bag and keep your cash, phone keys and credit cards safe in a cross body bag or money belt.
6.LEAVE OUT KIDS AND PETS
In your mind's eye you may have a vision of your children running excitedly through the door of your new family home, excitedly choosing their bedrooms. The reality is that within approximately one hour they will be bored and possibly murderous. And as for the dog, he'll have run away. I'd board the youngsters with friends or relatives and send pets to the kennels/cattery, at least until you've waved the van goodbye and got the kettle on.
7.TAKE A SURVIVAL KIT
Speaking of the kettle, you'll need essential supplies. Take a plastic crate – by the time moving day comes, you'll have many to choose from – and pack a kettle, milk, teabags, coffee, sugar, snacks, toilet roll, a bottle of your favourite celebratory/restorative tipple and mugs. I'd also add bin bags, cleaning cloths, multi-purpose cleaner, air freshener, headache tablets – make that two packs – a portable phone charger and tissues for the inevitable moment when you burst into tears.
8. DON'T BE TOO HARD ON YOURSELF
We moved into our new home six months ago and I have a confession to make: Our cellar needs a damp-proof course and we converted the loft to make a master bedroom and en suite. This means we're currently limited for storage space, so we've taken surplus household goods, books and toys to our local self-storage depot. It's not a luxury, and it's cheaper than buying a large shed. They will stay there until I feel strong enough to sort through them all. No house move or house-mover is perfect, remember that.